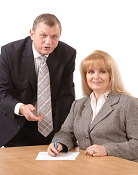 professional mediation services & training



Comments from students such as; "...
a life changing experience!"
"
inspirational
.." "...
filled with priceless experience
..." "...
deep-end training,
...a real eye-opener!"
are typical.
Read more
CLICK HERE



Students come from a diverse range of backgrounds, education and professions. "Many students take our training never intending to become a practicing mediator - some use their new skills within their current job or even to become better at dealing with conflict within their own home," explains Frank Hanna, co founder of The Mediation Agency.

Mediation training is extremely valuable to people from all walks of life, enhancing professional and personal lives. The advance of mediation into the structure of how we will be resolving conflict in the future is changing. Now is the time to gain this all important training. Consider the following quotes from two studies recently completed in the UK;

"Mediation has the potential to be particularly effective in the context of employment disputes….It is a pragmatic, flexible and informal way of providing both parties with positive outcomes."Better Dispute Resolution report, Department of Trade and Industry (March 2007) [see the full report by clicking here]
"Less than one third of employers currently train any employees in mediation skills, even though organisations that provide such training typically receive fewer employment tribunal applications." Managing Conflict at Work, Chartered Institute of Personnel Development [see the full report by clicking here]
Class Schedule:
The Mediation Agency's 40 + Hour Mediation Training course has been described as
"life-changing."
Obviously any experience described as such can be intense and emotionally draining.
Our typical schedule is structured to accommodates students who are unable to take off too much time from their work, additionally it presents a less of a problem for families. We believe the reduced stress of using too much of a working day gives our students time to absorb and reflect more fully on each day's lessons. Class hours are generally from 4:00p.m. to 8:00p.m. Monday - Friday with two Saturdays from 9:00a.m. to 3:00p.m.
Pre register On-Line:
CLICK HERE
MEDIATION TRAINING - PUBLIC CLASS -- -- OUR NEXT PUBLIC CLASS IS FORMING!
CLICK HERE
!